Back in the day when I needed to have a fast and quick boot for quick repairs of computers, I would turn the the diminutive Damn Small Linux to give me the ability to diagnose a large portion of what was wrong with a customer's computer.  At some point, development of this bastion of economical use of CD Space had fallen by the wayside…but I just caught wind that there is a new release candidate so I thought I would invest some time to look at this 50MB download.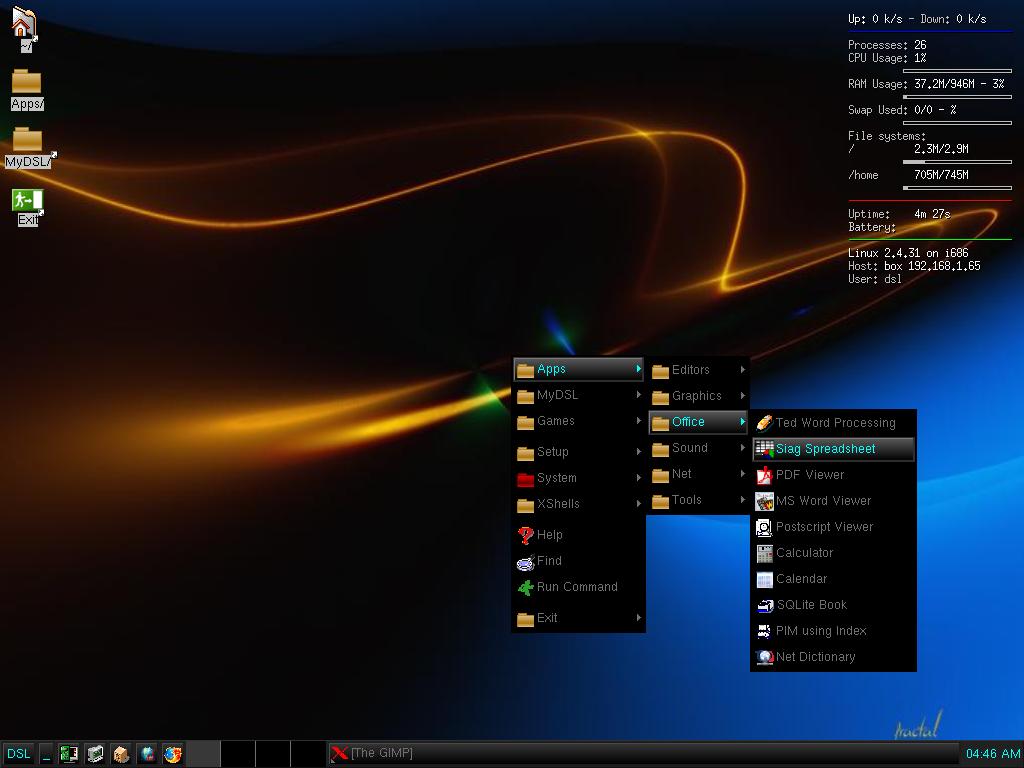 Damn Small Linux is designed from the ground up to be very light.  It can be installed on a 486DX computer with as little as 16MB of RAM so the install on my standard 6 Core, 4 GB RAM and 20GB should make this little beast feel like it has been given the keys to Uncle Jimmies Corvette!    DSL is meant to run from the CD, but can be installed on a HDD and extended to be a more robust OS.  This review will break into two parts, the abilities as a quick restore Live CD and the Installed version.
Live CD:
I was actually quite surprised to find that the Release Candidate for DSL was not as fast at booting in the Live environment as I remember it.  I was forced into starting in Expert Mode and it took longer to boot than it did to download the ISO?  This I think can be attributed to the fact that it really is designed for older hardware to provide a refresh and continue the usage of that 8 year old desktop or laptop that you have kicking around in your basement. I should have listened to the prompts that had alerted me to installing my Mouse at the start up so that was a minor hiccup.
For those not used to waiting exorbitant amounts of time for things to load (I think I have been spoiled over the past few weeks with the sub 15 second boot times)…this can become very frustrating…patience is a virtue but when i ran through a different start up option…the image of Tux and a flashing white box for 5-6 minutes…well what is actually happening…point to grow as DSL moves from Release Candidate to full release that is for sure.
Once the challenge of the Mouse Install is resolved and there is a full desktop, you will find a very responsive and nimble interface that runs entirely in RAM (on PCs with as little as 128MB of RAM).  Included on the CD are a host of Apps that were chosen for both size and function (remember the entire OS is built to fit on a Business Card CD).
Web Browsing is handled by Dillo but also has an older version of the Bon Echo port of Firefox.  I found Dillo to be a little dated in its ability to handle modern web pages and it failed to actually do the automatic redirect from google.com to google.ca that happens in nearly every other browser out there.
Audio is handled by XMMS, it found my Network Music folder and played like a champ so that was great.
Productivity is a bit of a challenge though with DSL.  The Size constraints of a max 50MB build means that there would be no way to include LibreOffice on the disk so the alternative chosen is Ted…a very nimble albeit basic Word Processor that comes with just 4 fonts and in reality less functionality than NotePad but in a pinch…it will allow you to get the job done.  Siag for a Spreadsheet reader though…well that was  a breath of fresh air.  Instant open and close, quick to connect but unable to open the more modern .xlsx files produced with MS Office 2007 and beyond.
Overall…the choices for the different Apps had some handicaps and limitations imparted mainly because of the need to keep the total OS under 50MB.  So what happens when we extend DSL out further into a full Desktop Daily Driver?
Installed version of DSL:
Well, it took me back to my early days of Linux usage but DSL has been around long enough that there is a well documented how to process for well nearly everything to do with DSL.
The creation of the new Linux Partition complete, the install took…well less time than it did to create the partition but what I thought was in reality an install…there was nothing…mainly because I forgot to enable the Grub creation during the process.  There are 5 different install options…I did not think I needed to build the Frugal install and that Grub or Lilo would be offered to me during the full install options…that was not the case.
So I restarted the Live CD and gave it another whirl and this time…there was no problems at all.  Being a Debian based OS I was able to hit the repositories and start extending the OS to be more of what I would want as a full featured desktop.  Installing LibreOffice, Chromium and an updated Firefox browser and making a few tweaks here and there to different application options.
With the OS now firmly installed the boot time was far more to my liking taking about 18 seconds to get to my desktop.  The Repositories are not well updated with the MyDSL option but once I got Synaptic Package Manager installed things started to fly.
Overall, if you are new to Linux, this is not the route that I would suggest you take, although if you are wanting to cut your teeth on command line inputs and learning how to build out a functional OS from the bare minimum while using the tried and tested foundation of Debian as your base…go for it.
Could this be a daily driver for me…no way.  It was and still is an emergency option and the  amount of tweaking it needed to even come close to a modern and functional OS would keep me away from this OS other than for the statement that it is a Damn Small Linux distro.
As for the rating:
Mainly because one of the main goals of this exercise each Sunday is to find a daily driver that does not take time to maintain and fiddle with just to get things going.  I love the concept and have a history with DSL…if that was not the case…the score would be much lower.
Cheers and happy Sunday…it is Chili Sauce day here.  Time to prepare for a visit from my Mom!
Chris J Powell