For all the benefits to the bottom line that BYOD has (User Satisfaction, Cost Reduction, Reduced Support) there is some big challenges facing organizations that are making the move towards the Bring Your Own Device in the Enterprise setting.  I work with hundreds of companies faced with the decision of should I go to the BYOD or should I stick with the way we have done business for decades?
The image above comes from the top line of an Infographic produced by xigo (a telecom expense management company.  There is still a real cost towards making the move towards letting employees choose how they work and while employee satisfaction and engagement is key to the success of the company…what is the real expense to achieve that small percentage gain?
In prepping for this post I did find a really interesting White Paper from a Mobile Device Management Service Provider MaaS360 and it is titled "The Ten Commandments of Bring Your Own Device", I would link to it but it requires user registration and well…I will gladly take those calls in your place at this point but it is located under the Resources Tab on their site!
What I found interesting about the White Paper is the that in the chaos of MDM (Mobile Device Management) they see themselves as Moses and his trip back from the Mountain with two Stone Tablets…in this case there is an iPad in one arm and I would assume a Samsung or Acer in the other.
The 10 Commandments of BYOD look like this:
Create Thy Policy BEFORE Procuring Technology
Seek The Flock's Devices
Enrollment Shall Be Simple
Thou Shalt Configure Devices Over The Air
Thy Users Demand Self Service
Hold Sacred Personal Information
Part the Seas of Corporate and Personal Data
Monitor Thy Flock – Herd Automatically
Manage Thy Data Usage
Drink from the Fountain of ROI
So when I look at these 10 instructions, I see some great ideas that should be applied.  In fact most even map back to the Best Practices that the company I work for suggest.  The challenge that I see as a User and as a Technology Geer Head is how does an IT Manager, CIO or Infrastructure Manager effectively "Part the Seas of Corporate and Personal Data"?  If I am using my own device, I will be using the services that I like best.  Things like Box.net and Oxygen Cloud.  I will leverage the tools that I have found on my own like ooVoo and Pocket Cloud.
The BYOD model is more than just the Personal Unmanaged Device (PUD) there is a host of Personal Unmanaged Applications out there, each with an inherent risk associated with it (600,000  in Apple App Store, 500,000 in Android MarketPlace and the potential for Millions of others for full Windows, Linux and Mac Devices).  It is important to remember that even this MDM Vendor recommends having your BYOD Policy in place before you open the doors (ie Commandment #1).
Is BYOD the future…yeah, I would love to be able to come to work with a real Laptop, plug in and do my thing, then unplug and go to Starbucks and have a cup of Joe and live my life…all on a device I want to use.  Give me the $500 that you would budget for Tech in a given year and I will gladly have a device with all the bells an whistles that could support what I do…until that tech that I invested in decides that it is going to malfunction.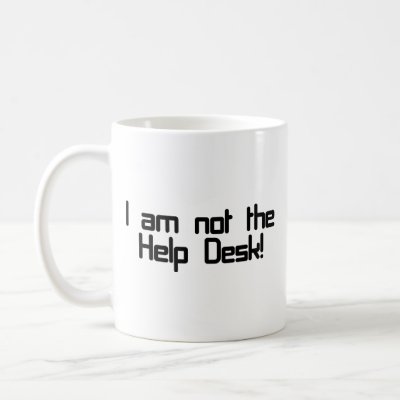 I am all for BYOD.  My wife was given the opportunity to work from home last year which saves us on Transit costs and when she has a short day…she just chills at home instead of going shopping (this is a VERY GOOD THING) but that also means that I become the Tech Support for all things for her job!  With the record heat here in Southern Ontario and an Central Air Conditioner that is gasping like a 40 year smoker with COPD, the room she works from heated up to an ambient temperature of around 38 degrees.  Despite my best design abilities when I built that machine for her…hot air in does not cool down the components and well lets just say…it was a late night and luckily she has a back up laptop that she can use today.
For users that are pushing for BYOD…think before you leap into demanding to use your own Device.  You will become your own Help Desk and that is not a good thing in many cases…I can tell more than a few horror stories of being both a DSL Tech Support Specialist and as a Home Networking and Consumer Help Desk business owner…just like jumping off a bridge into a back country stream…know how deep the water is before you dive in.
Cheers,
Chris J Powell