A colleague of mine suggested last week that when I write about the Cloud, I do the topic an injustice by not discussing the emerging Economy of the Cloud.   I am not an Analyst, nor an expert in Cloud Technologies but with the customers that I work with around the globe (and they range in size from 1 Person Consulting Companies to Fortune 1ooo organizations) the Cloud is one of those things that has IT Leaders as well as Business Leaders scratching their heads wondering what and where to turn to next.
There are really 3 types of "Cloud Services" but that is changing but for the purposes of this post we will look at SaaS (Software-as-a-Service), IaaS (Infrastructure-as-a-Service) and PaaS (Platform-as-a-Service).  All three will radically change how IT is delivered but if done right  the End User Experience will be the same (or better if you have drank the Kool-aid provided by your Account Rep).  I have seen several graphics that place SaaS in the lead as far as adoption, with IaaS coming in at about 50% less adoption and then PaaS again at about 50% less than IaaS.  This actually makes sense when you think about how each is applied in a business situation: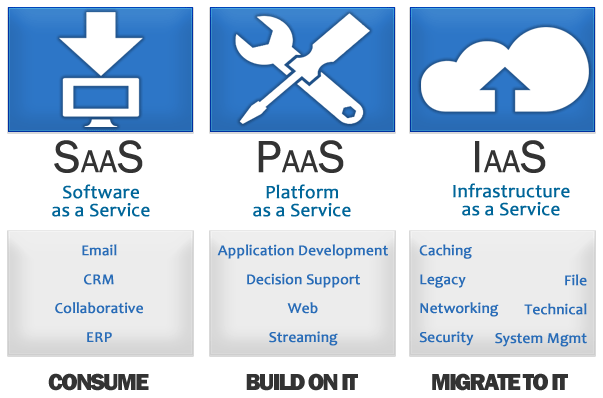 There are many ways to slice the savings that can be had from migrating and moving to the Cloud as a whole but there are also significant challenges!  What was once just a function (moving data from one server to another or backing up user systems internally) now becomes a bandwidth nightmare as all that Data is now sent to and from a remote server at your Service Providers Facility.
In preparation for writing this, I dove into a RackSpace sponsored Whitepaper – Cloud: Economics while it was filled with the typical Vendor Bias and softly veiled chest beating about how RackSpace can save you lots, even they  recommended doing your home work and running both an ROI (Return on Investment) and a TCO (Total Cost of Ownership) when you are planning a Cloud Project.   Or you could do something radical and reach for that Magic Eightball on your desk and predicting the future computing needs of the organization too!
Verizon has even gotten into the whole Cloud Game in a big way with Prime Time Advertising Slots for their UpperNet service but there are also literally hundreds of smaller and regional players that can offer everything from co-location and Disaster Recovery Options but also there is rarely a case that a Software release is not accompanied by an online SaaS option (look to the recent Adobe-as-a-Service offering) but in the world of PaaS what is the advantage?  Well if your test machines are in the Cloud, and your production machines are in the Cloud…they why are you not developing in the Cloud???  Microsoft Azure, Google, CA Technologies and even salesforce.com all have PaaS capabilities.
The truth is, there is no simple answer as to whether the Cloud is right for you.  There is a time and a place to look at the low cost of entry (in some cases zero initial cost) and go…this will help us meet the revenue targets this quarter!  The reality is, the short term gain can quickly be overshadowed by the recurring monthly (or annual) charges that you will face for the "subscription" but each of the "Cloud Services" do offer the ability to be VERY Scalable!
I think of one of my first clients I ever sold and managed.  They are a Tax Firm that sees 95% of all their revenue come in a 2-3 month window and their staff during this period grows from 150 to well over 1000.  The old Computing paradigm would say that you have to have all the hardware available for the peak time…problem is that this investment would then sit idle for 9 months waiting for the next big push!  This is where the Cloud (Private or Public) would make a lot of sense!
Well Day 2 of my Challenge is upon me.  I woke up this morning with far more energy than normal…hopefully that means good things for the rest of my day!  A special thanks to Darin Stahl for the suggestion for today's Post.
Cheers,
Chris J Powell