Inspiration comes to me from many sources and as I was sitting down to do a Redux of my Data Bunkering post from last year I stumbled across a research paper that was written for Data Analytics company SAS by Centre for Economics and Business Research.  I did a quick check and Big Data just like Cloud Computing is going to have a long term impact on the economic viability of companies both large and small.  While the information cited in the White Paper focuses on the UK, I think that most of the information can be easily translated anywhere in the world.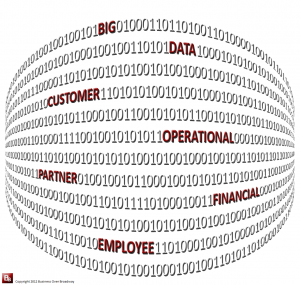 The article is available for download for free at the CEBR website but the long and the short of what I took away from the 44 pages is that Big Data is going to be key in 6 Main Areas that I would like to share today.
Customer Intelligence
This may seem like a no brainer as anyone who has been following Big Data for more than 5 minutes knows that Facebook, Google and nearly every other company out there is collecting data about our habits, likes and wants and building both a better Internet but also within some of the most recognized Brands in the world…a better "mouse trap".  I would like it for a company to know what I want…or at least what I need so that I don't have to go farting around looking for it and buying way more than I should!
Supply Chain Management
Tied directly to Customer Intelligence can be a predictive analysis of demand vs. supply.  There is nothing worse than going to a grocery store and finding the one item you wanted sold out (hopefully not to one of those Extreme Couponers).  This can help all through the process from raw materials, to manufacture, to warehouse to retail store.  That connection and real time processing that Big Data Analytics provides should increase efficiencies as much as the concept of Just In Time Delivery did!
Quality Management
Quality is something that we all long for every day.  Whether it be in our daily interactions with customers/sales or to the products and goods we buy and food we consume.  We for the most part don't even think about it until something goes wrong and the quality is reduced.  Analytics can be applied to every aspect of Quality because it can look to the data points determined and have a set spread of variability that it targets and alerts on.  This means higher profits…and that is good right?
Risk Management
When it comes to managing risk, we all have a bias that comes into the equation.  To prevent that, Big Data Anaytics takes a systematic approach to risk and builds a true Risk Profile to the configuration.  Could Big Data have prevented the Banking Collapse a couple of years ago…hard to say because it still resides as a human decision to act upon the information or not…SkyNet is not yet pulling the Strings.
Performance Management
Every job out there requires a watchful eye on many Key Performance Indicators but when left to a manager or supervisor to watch over all those metrics, interpretation comes into play.  Wouldn't it be wonderful if everything that our jobs were measured on were available for us to see in real time so that we can effectively self correct and avoid those awkward 6 month performance reviews!
Fraud Detection
In the article, it was stated that in the UK Fraud accounts for over $114Billion in losses each year.  If this was reduced even by 10% that is more than the GDP of the lowest 59 Countries on the International Monetary Fund List.  The reality about Big Data it is the predictive nature that would allow the new systems to learn about new and emerging trends in Fraud and help combat against them.
So what is all this Data Equity about then?  Well all Data is not created equal…the yammerings that I put out there may not be considered as valuable as what the esteemed Research Analysts at my company put out…this is a hobby and a way for me to connect with my customers…no one pays me to do this…but here I am approaching day 200 with a continuous posting schedule.
The Article points out quite well that the future for investing and building a new value creation is going to be based on the analysis of both Real Time and Historic Data.  Predictive Analysis can impact the way the world does business…it can identify hot new markets, look to emerging trends and prevent Fraud and Quality issues.
The investment in your Data Equity (even if the quantity is not Google Big)…the future is in the Data.
Cheers,
Chris J Powell